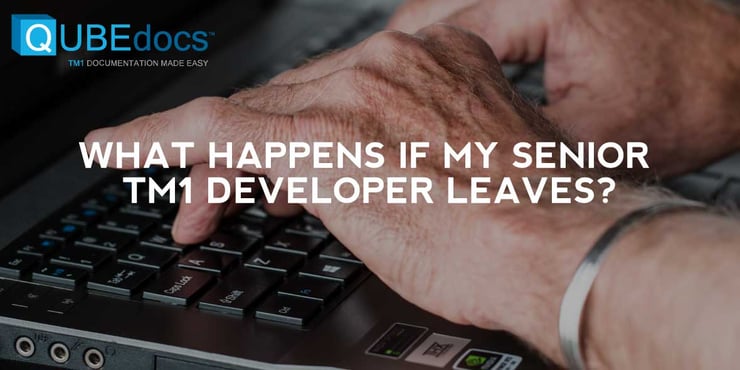 Losing a key team member can test even the strongest of teams. Losing a TM1 developer can be disastrous to any company. A TM1 developer isn't just the individual responsible for maintaining Cognos TM1 cubes, solving complex problems, and strengthening your business analysis capabilities. If there's one thing a good TM1 developer does well, it's buying you time.
A TM1 developer lies at the heart of every finance team, helping drive better business decisions faster. Using business intelligence software, they bring a new dimension to how finance departments work, resulting in effective decision-making, better resource allocation, and more accurate forecasting for future developments.
So, what happens when your senior TM1 developer leaves? For one, it could throw your entire team into disarray and irreparably disrupt productivity. Your team's implicit knowledge about internal processes and how work gets done is one of your greatest assets as a CFO. When a vital team member leaves, you lose the institutional knowledge and history that they take with them. A TM1 developer is the backbone of any financial analytics team, and as such, the institutional knowledge and experience they have been invaluable and a key source of best practices. Their leaving could weaken your finance department, increase operational costs, plus spike risks.
To pre-empt this outcome, you need a system that codifies and manages their expertise – one that archives important operational and historical information in accessible places. The reality is losing knowledge in the age of information can have devastating consequences. And it's inevitable that key people will leave; you just have to mitigate the risk.
Ensuring Continuity
Failing to retain or transfer institutional knowledge when your TM1 developer leaves could severely impact business continuity, translating into higher costs and lower organizational efficiency. This knowledge is difficult to replace. All in all, lacking a system to document and retain knowledge could spell disaster. The truth is retaining knowledge is key to becoming more adaptive and resilient to changing market demands.
Keep in mind that knowledge preservation should be proactive rather than reactive. Taking the initiative can make the loss of crucial personnel less disruptive. You should know what knowledge to preserve and how to share it.
Capturing institutional knowledge:
Reduces time and resources spent onboarding new employee
It helps in understanding past trends that may help forecast future market changes
Documents previous success which can help in replicating them
Prevents mistakes caused by lack of adequate information or experience
To curtail the loss of operational knowledge, you need a system that identifies and documents critical knowledge, business processes, and institutional policies and practices—a central knowledge library of sorts. You should create a knowledge database to capture, share and reuse information. And in the digital age, you need one with AI-based real-time search.
With QUBEDocs, you can effectively preserve institutional knowledge reducing gaps in business continuity. Let's explain.
QUBEDocs as a Risk Management Plan
QUBEDocs is a documentation powerhouse that addresses the everyday challenges of TM1 analysts and developers. Understanding and documenting TM1 models is a complex, time-consuming process that can be challenging to understand fully. Now, this is where QUBEDocs shines. QUBEDocs delivers meaningful documentation of TM1 models by automating and centralizing the data.
With QUBEDocs, you can say goodbye to disconnected data sets. It's an incredible tool that allows you to collect information and document changes in real-time. QUBEDocs provides better documentation for TM1 models and is flexible enough to meet different businesses' individual needs.
Another great advantage of QUBEDocs is that it significantly reduces the costs of managing your TM1 implementation. With QUBEDocs, you can retain your TM1 institutional knowledge in one place. It is a system that allows you to build a knowledge framework to reduce risk. Considering that it's fundamental for every organizational department to maintain detailed, concise, and accurate documentation, QUBEDocs is a great tool to have in your arsenal.
Maintaining the level of documentation needed to manage the loss of key personnel is extremely time- and resource-consuming. You need a system with powerful and flexible functionalities that will help you develop solutions as you go along. QUBEDocs creates a simple framework that translates the technical aspects of TM1 models into your specific business language. It comprehensively presents TM1 model information in a way that empowers users to logically and visually interrogate it.
QUBEDocs is an invaluable tool that allows you to see the dependencies within complex models, in addition to:
Depicting models visually
Highlighting errors through integrity checks
Tracking changes to meet corporate governance requirements
Automate as-built documentation
With QUBEDocs, you can comprehensively create a TM1 knowledge and documentation framework that makes it easier to interpret, retain and transfer knowledge.
Don't Lose Focus on Your Business
The retention of institutional memory should be a key priority for every CFO. While many executives worry about turnover, they should be more concerned about the level and capacity of knowledge the personnel leaving possesses. Highly skilled tech employees are not easily replaceable, and their leaving could impact organization operations and performance. Business leaders must plan for knowledge retention and transfer to ensure business continuity, and this is something most organizations are not doing enough.