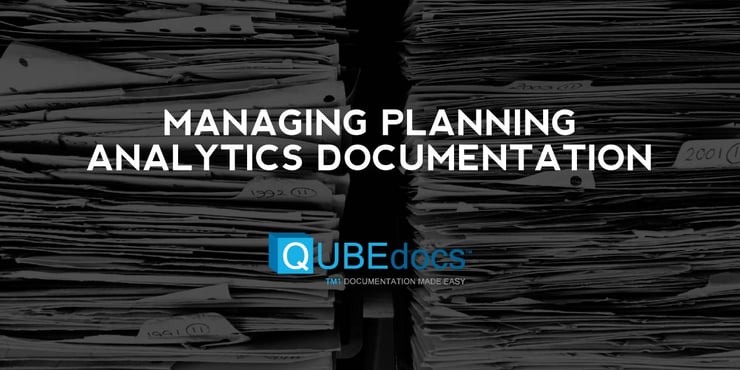 Documentation lies at the core of good data management and analysis. Documentation introduces your data and contextualizes it by providing a detailed description of its key attributes. Good documentation provides a framework detailing what you did and why you made the choices that you did.
Good documentation is helpful to you, future you, and other members of your team who may re-use your data later in time. Clear, thorough documentation improves the processing and archiving of your data and results in an accurate catalog that provides the evidentiary value of the data and its provenance.
In planning analytics, documentation helps you reduce risk and capitalize on your organization's use of IBM Planning Analytics/Cognos TM1. With a program as complex and scalable as the IBM Planning Analytics platform, you must ensure that all controls are in place and working as they should; otherwise, the very strengths of the program could turn into risks.
To de-risk your infrastructure investment, you must have a comprehensive documentation framework - one that archives important operational and historical information in accessible places. To better understand the importance of documentation in planning analytics, let's go through the benefits, costs, and risks associated with the investment.
The Importance of a Documentation Framework in Managing IBM Planning Analytics
Documenting IBM Cognos TM1 is an intricate, time-consuming process. TM1 can be pretty complicated. Even the simplest of solutions is likely to involve one or more data sets, numerous calculations, and reports.
Furthermore, there'll come a time when you need to make changes to the model. TM1 allows models to be built rapidly and adapted throughout their lifecycle. Therefore, it can be difficult to fully understand the implications of such changes in the moment. Because of how interwoven TM1 processes are, these changes introduce risk. Issues and inaccuracies are bound to arise. What you require is a system that allows for effective change control and management.
In addition, you must update your documentation as you make the changes. If you're to do it manually, you'll be wasting considerable time, and effort better spent analyzing data or creating new models. To keep track of the intricacies of the analytics tool, you must have a detailed and accurate documentation framework.
Too often, the data documentation is too complex to make sense, incomplete, or outdated. And this is why you must build a framework to reduce risk. You need a framework that:
Automatically records and documents changes hence effectively reducing the effort required in documenting models for different user types.
Tracks model changes to maintain an up-to-date, dependable framework that meets corporate governance requirements
Provides a visual depiction of TM1 models
Collects information to perform an impact analysis of model changes which reduces the risk of errors and data loss
Highlights errors through integrity changes
Understands complex models and their dependencies and efficiently identifies areas that need to be tested.
Pulls information from a vast number of source files to provide you with an otherwise unavailable comprehensive view of your planning analytics platform
You need a framework that automates and centralizes the documentation of Cognos TM1 – one that allows you to describe your TM1 models by tagging model constructs such as activities, processes, and business roles.
QUBEdocs: Bringing Clarity and Vision to Your Data
To maximize your return on investment, you need to maintain a detailed, concise, and accurate documentation of your IBM Planning Analytics program. As such, the level of documentation required to de-risk your infrastructure is simply too complex to be attempted manually.
To build a comprehensive framework, you have to document:
Definitions
Model versions and changes
Data flow, relationships, and dependencies
Standards and proven practices
Setup and configuration information
End-user applications
Admin processes
QUBEdocs automates this for you and adds a new dimension of visibility and information governance providing you with centralized, up-to-date information. Essentially, QUBEDocs helps you to develop, administer and monitor your Planning Analytics environment efficiently.
Do you need a documentation powerhouse that enables you to preserve institutional knowledge while streamlining your data management processes effectively? Well, look no further than QUBEdocs. QUBEdocs is a documentation engine that provides you with the tools to manage and change your business models without compromising the features that make your analytics solution so powerful.
With QUBEdocs, you can create a comprehensive documentation framework and eliminate many of the time-consuming activities associated with making changes to analytics models. You can visualize model dependencies and create model comparisons. QUBEdocs comes with in-built systems that carry out integrity checks and ensure error-free documentation.
Improve your Business Intelligence
Your time is valuable. Let QUBEdocs de-risk your critical TM1 resources for you. Gathering and consolidating documentation data is a time-consuming activity that often involves multiple stakeholders scattered across different departments. With a central framework, you're assured of improved data hygiene and flexibility. QUBEdocs enables you to automate manual, spreadsheet-based processes reducing human error and increasing the accuracy and reliability of your data.
Most importantly, QUBEdocs buys you time. By eliminating the need to track changes and model data, your finance team can focus on what matters: developing financial insights.